Band
The Swedish sleaze/punk influenced metal outfit known as Sister, who hail from Stockholm, formed in Jönkoping, Sweden in early 2006 have been working hard during the last ten years earning the reputation of being one of the best live acts out there.
Sister deliver raw, heavy and energetic punk/metal to the audience that are on their path on the numerous tours they have done in the UK, Scandinavia, Germany, Italy, France, Spain and the rest of Europe.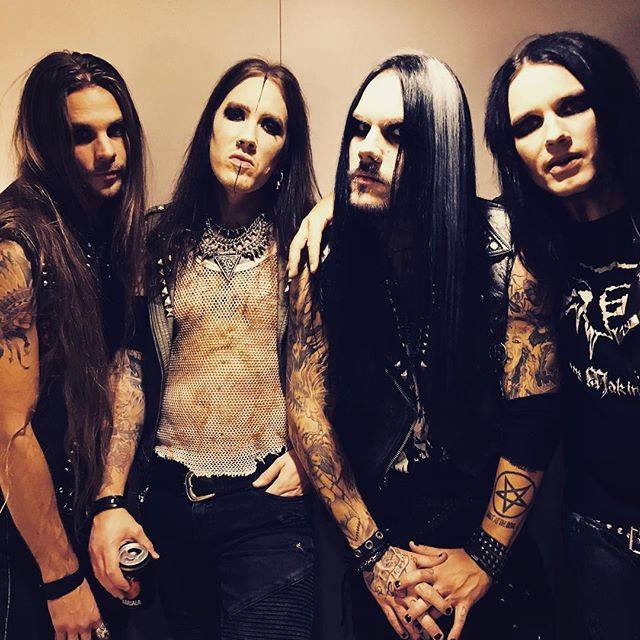 Sister consists of four members­ Jamie Anderson on vocals, Filip Armfelt on guitar, Martin Sweet on bass, and Cari Crow on drums who combine the sounds of Punk, Glam, Rock, and Metal with an end result sounding something like the bastard child of The Misfits and Guns N' Roses.
In the early days Sister toured all over Europe, released many own produced CD's, gained fans and spread their name over the world and in 2009 Sister released the EP Deadboys Making Noise and a video for the track "Too Bad for You," which got garnered great reviews from critics and fans alike while also catching the attention of Primordial's Alan Averill 'Nemtheanga'. Alan, having recently signed on to assist with A&R at Metal Blade Records, brought Sister to the label's attention in 2010 helping to secure the band a worldwide record deal.
The release of Sister's debut album HATED followed by massive touring in Europe and the UK. The band played the big stage at Sonisphere In Madrid together with acts like Metallica, Slayer, The Offspring and Mastodon and toured with acts like U.D.O, Wednesday 13, Hardcore Superstar and Crashdiet to mention a few.
The release of their second album on Metal Blade Records " Disguised Vultures" was released shortly after the debut and was followed by headlining shows all over Europe and UK and touring together with giants like Skid Row.
Sister entered the studio in 2016 to record their third album to be released the same year followed by touring and breaking new ground.
The new album "Stand up, Forward, March!" was recorded in the Shit city of rock n' roll -Upplands Väsby, Sweden – by Sister and producer Jona Tee.
"Our intentions with this album was not only to record an album, but the best album so far. The Sister vibe with the aggressive music and raw sound is there together with a bigger sound and choruses that will blow you away. This is by far the best Sister album so far and there is no doubt that this one will take the band to new heights" – Cari Crow, Sister